The National Sanitation Foundation (NSF) is a US-based organization that tests many types of products to ensure quality and safety. The dietary supplement certification services help ensure products are potent, free of toxins, and contain only ingredients found on the label.
I wasn't aware of NSF Certifications for many years and bought supplements mostly based on customer reviews. In many cases, that approach left my product quality up to little more than chance. Ensuring the supplements you consume are NSF (or equivalent) Certified helps ensure you aren't consuming dangerous or useless supplements.
Introduction
The NSF certifies many different types of products other than supplements. I'm not going to get into everything within the purview of their certifications—just know they're regarded as a quality assurance authority for a lot of stuff.
NSF Certifications
When it comes to supplements, the NSF offers several different types of services. I think it's important that anyone who regularly buys supplements to be aware of these. Lack of NSF certification doesn't inherently mean low quality, but many of the best supplement brands take that extra step to help build consumer trust. Here's a rundown of those I regard to be most relevant for the consideration of supplements.
cGMP Registration
The FDA maintains a list called the Current Good Manufacturing Practices (cGMP) which provides manufacturers with instructions on how to assure product quality. This covers things like product testing, expiration dating, and how to handle product recalls (among many other things.)
While useful, the FDA does not require supplement manufacturers to have their manufacturing facilities inspected for GMP compliance before selling their products. That means contaminated products would reach consumers long before the FDA would step in. The FDA also does not provide any type of certification service such that a manufacturer would be able to communicate compliance to their customers.
NSF GMP-Certified is a service the NSF offers to let supplement brands show their buyers they're buying products produced in GMP-compliant facilities. This means so much more than just keeping their warehouse clean. This involves facility inspections, process inspections, and a full audit of all control and process systems. Any brand that is NSF GMP-Certified has taken an extra step to assure buyers their products are as pure and potent as advertised.
Product & Ingredient Certification
NSF literally wrote the book on dietary supplement ingredient testing (ANSI 173.) They offer product certification services on a product and product-ingredient level. This includes things like protein powder, multi-vitamins, herbal extracts, and even isolates like single amino acids.
A product with NSF Product & Ingredient Certification assures the following compliances:
Produced in a cGMP facility using cGMP processes
Contains only listed ingredients
Free of contaminants such as heavy metals and bacteria
NSF has testing facilities around the world that offer the latest in analytical methods. Being as NSF developed the standard for many of these testing approaches—they're pretty damn decent at ensuring ingredients are tested in the most effective (and revealing) way. A full breakdown of this service is here.
NSF Certified for Sport
Professional athletes are commonly tested for performance-enhancing drugs. Organizations such as the United States Anti-Doping Association (USADA) are responsible for ensuring athletes refrain from using any number of the many compounds restricted from competitive and Olympic sports. Even trace amounts of the compounds can result in an athlete being banned from competition.
With so much on the line, it's easy to imagine a professional athlete being hesitant to use dietary supplements at all. Even a single product containing unlabeled ingredients could cost them their careers. NSF developed a program called NSF Certified for Sport which helps professional athletes find products guaranteed to be free of banned substances. NSF Certified for Sport products are guaranteed free of (even trace amounts) the following commonly banned substances:
Narcotics
Hormones
Steroids
Stimulants
Masking Agents
NSF Certified for Sport is an excellent choice for anyone looking for a higher level of quality assurance. For professional athletes, it's a must.
How to Check Supplement NSF Status
The NSF logo is allowed to be used on products to help buyers identify products having been produced under NSF guidelines. Below are the three primary types of NSF supplement certifications listed with the most-stringent last.
Produced in an NSF GMP-Registered Facility
Ingredient & Product Certification
NSF Certified for Sport
Check Product Labels
Not all products have undergone some form of NSF Certification are allowed to convey that on their label. Manufacturers that have NSF GMP-Registered facilities are only allowed to convey the NSF's role indirectly and not on product labels. Only products having undergone specific formula testing and NSF Certified for Sport testing can use the NSF logo on their packaging. See the chart below: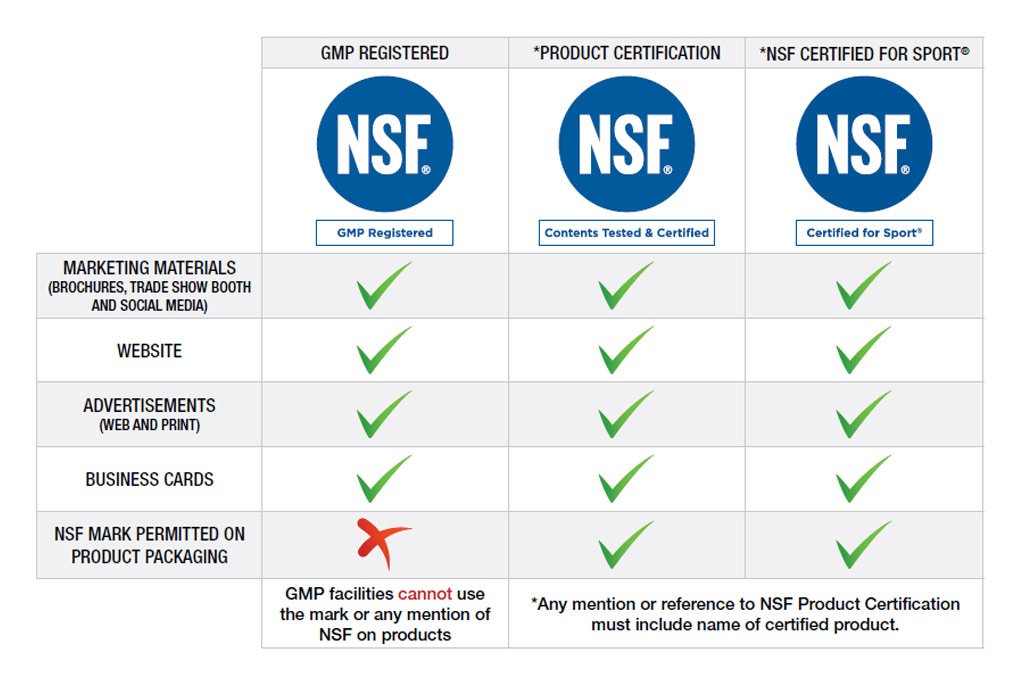 Certifying each product isn't logistically feasible or cost-effective for manufacturers with hundreds of products in their catalog. Having their manufacturing facilities NSF GMP-Registered is a solid step in the right direction, but not one they're easily able to convey to consumers.
NSF Registration Database
The NSF Certified GMP database can be used by anyone to check the NSF status of a dietary supplement. You can search by product, manufacturer, or even ingredient. There is also a separate filter for facilities having been NSF Certified for Sport.
Here you can see a list of the brands that have undergone NSF certification as well as their contact information. I use this database to check to see if new brands have undergone NSF certifications before I consider them for purchase.
Not all supplement brands manufacturer their own products. Many (most) brands use contract manufacturers and therefore would not be listed on the NSF website under their own brand name. To ensure these types of brands are NSF-Certified, you must check to contact them directly.
Review
NSF certifications are a great way to ensure you're buying quality supplements. They're not always easy to spot—sometimes you have to do a little research—but I think it's well worth the effort to rest assured a product is free of junk. Searching the NSF database is a great way to qualify new brands. One major characteristic that separated doctor-trusted supplement brands from regular store brands is that many have their own NSF GMP-Registered facilities.